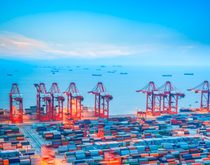 Carriers' schedule reliability from Shanghai to Oakland, Calif., showed the greatest variation in eastbound Asia-to-Southern California route performances...

The majority of public comments sent to the Federal Maritime Commission regarding the proposed P3 Network were supportive of the vessel-sharing alliance among the world's three largest global container lines.

Average spot rates on the Asia-Europe trade held onto most of the general rate increase that took effect on July 1, in part because the wreck of the MOL Comfort has taken some vessel capacity out of the trade.