MOL, or Mitsui O.S.K. Lines Ltd., is an international shipping company based in Tokyo, Japan. Created after a 1964 merger, MOL owns a fleet of container ships, bulk carriers, tankers, LNG carriers and other vessels. MOL also offers logistics services and technology services and operates ferries and coastal liners.
MOL posted revenues of US$16.05 billion in 2013-- down 8.1 percent on a year-on-year basis. The company recorded a net loss of $1.9 billion, up 83.4 percent from the previous year's net loss of $316.4 million.
MOL was the 14th-ranked container carrier in U.S containerized import trade in 2013, with volume of 662,069 TEUs, up 13.9 percent year-over-year, giving it market share of 3.7 percent. It was No. 15 in U.S. containerized export trade in 2013, with volume of 370,562 TEUs, up 5.3 percent year-over-year and market share of 2.9 percent. For more carrier rankings see the JOC's Top 40 Container Carriers special topic.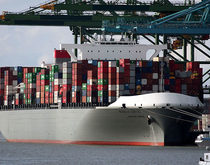 The anticipation of record losses underscores the necessity of Japan's leading container lines' plan to merge.

The new head of MOL Line said its container line will cooperate more with its nine terminals in order to boost profitability after losses from its liner business deepened to 9.5 billion yen ($76.6 million) last fiscal year.
Maersk Line has entered into a vessel sharing agreement with Mediterranean Shipping Co, its 2M alliance partner, and Japan's Mitsui OSK Lines (MOL) on the Asia to East Coast of South America trade route.
MOL on Monday confirmed orders and charters for six 20,150-TEU vessels that catapults the Japanese carrier into the ranks of the operators of the world's largest container ships.