Maersk Line is the world's largest container ship operator. Maersk Line is a unit of the A.P. Moller-Maersk Group, based in Copenhagen, Denmark, and with offices around the world. The group was founded as a shipping company in 1904.
A.P. Moller-Maersk's container shipping subsidiaries — Maersk Line, Safmarine, MCC-Transport, Seago Line and Mercosul Line — operate nearly 600 vessels with a total capacity of more than 2.6 million TEUs (20-foot-equivalent units). Maersk operates the largest container ships in the world to date, with delivery of its 18,270-TEU Triple E vessels beginning this year with the Mærsk Mc-Kinney Møller.
Maersk Line has announced plans to join fellow major container lines Mediterranean Shipping Co. and CMA CGM, in the P3 Network, an alliance that will allow all three carriers to deploy their largest vessels in Asia-Europe trade, while deploying smaller vessels in Trans-Pacific and Trans-Atlantic trade, subject to regulatory approval.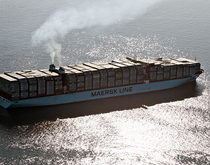 The move seeks to solve a core problem that underpins the industry's slow pace in digitalizing processes.
A Maersk Line container ship remained in Iranian custody Wednesday, still without a concrete explanation as to why Iranian patrol ships fired upon and seized the vessel while it was transiting international waters.

Just two hours before they were set to call the port at Jebel Ali in the United Arab Emirates, the crew of the Maersk Tigris likely had little or no idea that the container ship would become international news while heightening tension in the Middle East.

Iranian patrol vessels fired warning shots across the bow of the container ship Maersk Tigris when the vessel was traversing the Strait of Hormuz in Iranian territorial waters, a Pentagon spokesman said.