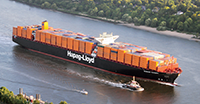 Hapag-Lloyd is at present the world's sixth-largest container line, but a planned merger with CSAV will create the fourth-largest global ocean carrier.
Founded in 1970 via a merger between the two shipping companies Hamburg-Amerikanische Packetfahrt-Actien-Gesellschaft (Hapag / Hamburg-American Line) and North German Lloyd (NDL), Hapag-Lloyd is based in Hamburg, Germany, and has a presence in 114 countries, with 7,000 employees worldwide.
Hapag-Lloyd has a fleet of more than 150 ships with a capacity of around 730,000 TEUs. In 2013 the carrier posted revenue of EUR 6.56 billion, a 4 percent decrease from the previous year. The company recorded a net loss of EUR 97 million, down 24 percent from the previous year's net loss of EUR 128 million.
Hapag-Lloyd was the seventh-ranked container carrier in U.S containerized import trade in 2013, with volume of 1,029,853 TEUs, up 1.4 percent year-over-year, giving it market share of 5.7 percent. It was ranked third in U.S. containerized export trade in 2013, with volume of 802,784 TEUs, up 3.1 percent year-over-year, with market share of 6.3 percent. For more carrier rankings, see the JOC's Top 40 Container Carriers special topic.
Hapag-Lloyd and CSAV in April 2014 signed a binding contract to complete a merger to create the world's fourth-largest container line. Following the merger, which is expected to be finalized in the fourth quarter of 2014, the enlarged Hapag-Lloyd will have 200 vessels with total transport capacity of around 1 million 20-foot-equivalent units, an annual transport volume of 7.5 million TEUs, and annual turnover of €9 billion.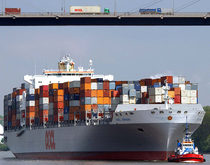 The August 1 rate increases on Asia to Europe and the Mediterranean are beginning to roll.