Grand Alliance
Grand Alliance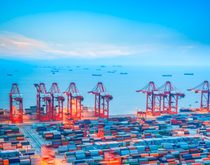 Carriers' schedule reliability from Shanghai to Oakland, Calif., showed the greatest variation in eastbound Asia-to-Southern California route performances...
Port Everglades recently celebrated the first vessel call of the Grand Alliance's Gulf Atlantic Express (GAX) service.
The Port of Seattle reported container volume dropped 16.0 percent year-over-year in July to 134,864 20-foot-equivalent units...
The Port of Tacoma reported container volume of 1.08 million 20-foot-equivalent units for the first seven months of 2013, an increase of 24 percent year-over-year.