Fesco Shipping Company is one of four operational divisions of Fesco Transportation Group, alongside Liner and Logistics, Rail Services, and Ports. The group provides a wide range of transportation and logistics services. Founded in 1880, the Moscow-based shipping company is the largest intermodal transport company in Russia.
The Shipping Division is involved in ship ownership, ship management, chartering out and provision of vessel agency services. The vessels operated by the Shipping Division are largely container, bulk carriers and roll-on, roll-off (Ro-Ro) vessels.
Fesco Transportation Group recorded 2013 revenues of $1.14 billion, down 4.8 percent year-over-year. Its shipping division recorded revenues of $65 million, down 53.9 percent year-over-year. The company recorded a net profit of $324 million, down 19.8 percent from the previous year's net profit of $404 million. The company employs approximately 5,000 individuals and owns 28 vessels, with intermodal transportation volume of 243,564 TEUs in 2013.
Key Coverage
Russia's Summa Group Completes Fesco Takeover
Press Releases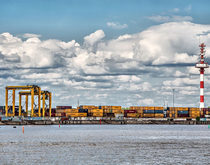 Russian container terminals and exporters didn't experience any disruption tied to the new SOLAS container weight rule.
A new containerized cargo transportation firm able to compete with global majors may soon appear in Russia.

Russia's container transportation market is on the verge of consolidation. The country's two largest, and ailing, container transport providers — container line and terminal operator Fesco and containerized rail provider Transcontainer — plan to merge.

FESCO, one of Russia's largest privately-owned transportation and logistics companies, posted significant declines in container volumes in the first half but believes that its future is bright.