Evergreen Line operates the fourth-largest container fleet in the world, with more than 180 ships with total capacity of approximately 650,000 TEUs (20-foot-equivalent units).
Evergreen Line is the unified common trade name for the four shipping companies of the Evergreen Group. The brand 'Evergreen Line' is used for international marketing purposes for the company, which is based in Taipei, Taiwan.
Evergreen Line was the third-ranked container carrier in U.S, containerized import trade in 2013, with volume of 1,319,994 TEUs, up 9.1 percent year-over-year, giving it market share of 7.3 percent. Furthermore, it was No. 4 in U.S. containerized export trade in 2013, with volume of 788,083 TEUs, up 0.9 percent year-over-year, and with market share of 6.2 percent. For more carrier rankings, see the JOC's Top 40 Container Carriers special topic.
COSCO, 'K' Line, Yang Ming, Hanjin, and Evergreen Line have agreed in principle to an expanded CKYHE Alliance.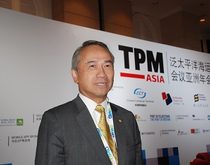 Evergreen veteran takes over as Yang Ming's new chairman.