Eimskipafélag Íslands (The Icelandic Steamship Company) is the oldest shipping company in Iceland, established in 1914. The Reykjavík, Iceland-based company runs six shipping lines on the North Atlantic through operation of 8 ships with carrying capacity of 7,210 TEUs.
Eimskip and its subsidiaries — Eimskip-CTG, Faroe Ship, Eimskip Flytjandi, TVG-Zimsen, and Herjoflur — transport cargo by land, air and sea, and offer various logistics solutions such as warehousing and distribution. The company employs approximately 1,350 individuals across 51 offices in 18 countries.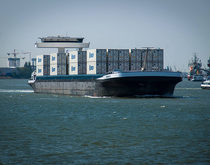 Eimskip is on the acquisition trail again.

Eimskip wants to connect Greenland to the global container trade.

Eimskip is eyeing fleet expansion after the Iceland container shipping and refrigerated logistics group, posted its best quarterly result since 2009.
Iceland-based niche carrier Eimskip has continued its expansion into refrigerated logistics services by acquiring Rotterdam-based forwarder Jac. Meisner.