CSAV Group is a Chilean shipping company founded in 1872, making it one of the oldest shipping companies in the world and one of the largest in Latin America. The ocean carrier has a fleet of 51 container ships, 10 car carriers, and 3 bulk. With a presence in more than 80 countries, CSAV is the 20th-largest container shipping company worldwide.
CSAV Group posted revenues of US$3.21 billion in 2013 — down 6.6 percent on a year-on-year basis. The company recorded a net loss of $169 million, down 46 percent from the previous year's net loss of $313.6 million.
CSAV Group was the 23rd-ranked container carrier in U.S containerized import trade in 2013, with volume of 141,662 TEUs, up 2.9 percent year-over-year, giving it market share of 0.8 percent. It was No. 20 in U.S. containerized export trade in 2013, with volume of 139,198 TEUs, up 3.8 percent year-over-year and market share of 1.1 percent. For more carrier rankings see the JOC's Top 40 Container Carriers special topic.
Shareholders of CSAV overwhelmingly  voted in favor of a planned merger with Germany's Hapag-Lloyd that would create the world's fourth-largest container shipping line. The planned merger was backed by 84.5 percent of CSAV's shareholders at a special stockholders' meeting in Valparaiso. The deal is expected to close this year.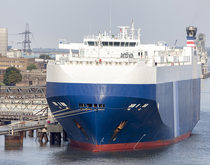 The U.S. Justice Department has indicted an executive for his role in roll-on, roll-off cargo price-fixing.

Carriers announced general rate increases that span into February this week, as spot rates around the globe respond to mid-December rate hikes. Drewry Maritime Research's World Container Index composite index, which measures 11 East-to-West trade lanes, jumped a cumulative 35.8 percent this week.

Although Hapag-Lloyd announced the completion of its merger with Chilean carrier CSAV on Dec. 2, it must still navigate the rocky shoals created by the two carriers' combined losses and heavy debt load.

Hapag-Lloyd and CSAV will launch new joint services between March and June, the carriers said today after unveiling new-and-improved service loops.