Maersk Line and Mediterranean Shipping Co. have announced plans for a 10-year vessel-sharing agreement  on the Asia-Europe, trans-Pacific and trans-Atlantic trades as the carriers strive to better utilize capacity in the wake of the failed bid to launch the P3 Network.
The vessel-sharing agreement will be referred to as 2M and will replace all existing vessel and slot purchase agreements that Maersk Line has in these trades. It is slated to take effect in early 2015, but the exact start date depends on the filing of information to the relevant authorities in the many jurisdictions that will be covered by the carriers, and in some cases the VSA will require regulatory approval.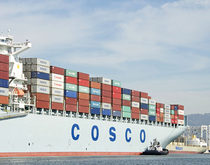 The new Ocean Alliance will have the largest market shares of critical east-west trades.