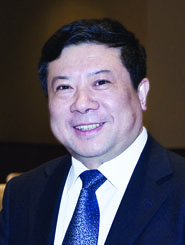 In 2014, we should grasp the opportunity of the Chinese government further deepening its reforms, especially the experimental operation of China (Shanghai) Pilot Free Trade Zone. I hope there will be a new round of "Chinese factors" as the impetus of global maritime development. In particular, the reform of China's financial system would boost the internationalization of renminbi investment and financing so that more capital funds will be transfused to the sluggish maritime sector.
I would also hope the flooding investment in shipyards is based on the foreseeable increase of global trade and the investors' own marketing activities instead of a purely "war for market shares."
And I expect to see a fair and impartial international third-party e-platform of maritime businesses that provides more transparent information of supply-demand and more convenient services, so that both carriers and shippers will enjoy "win-win" effect in this neutral third-party platform.
Zhang Ye is President of the Shanghai Shipping Exchange