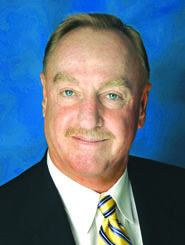 West Coast ports now stand at a crossroads. With competitive threats becoming more prevalent, we have the opportunity to solidify our position as the gateway of choice for goods being sent to and from Asia. If, however, we fail to keep pace, the alternative is to weaken this engine of economic growth, by losing discretionary cargo and the jobs and revenue that come with it.
During recent years, much has been made of the threat posed by an expanded Panama Canal. Yet as the canal moves toward completion, there are other competitive threats that have received less notice. Ports in Canada and Mexico are expanding, while all-water service to the East Coast through the Suez Canal has become a viable option. All of these alternatives have the potential to disrupt long-established patterns through West Coast ports.
On the other hand, the West Coast ports, led by the mammoth Los Angeles-Long Beach port complex, handle the majority of trade from Asia, and are well-situated as a result of shorter transit times, reliable service and transfer to the national rail network. Our member companies have worked hard in recent years to ensure that these ports remain second-to-none.
During the coming year, the Pacific Maritime Association will negotiate a new labor contract with the International Longshore and Warehouse Union. We aim to do so in a manner that will preserve our ports' standing. That means ensuring our ports continue to be efficient and productive — and it means doing everything we can to resolve our contract differences at the bargaining table, rather than on the job site. If we are successful on these points, it will go a long way to ensuring that West Coast ports remain the destination of choice for shippers of all kinds, to all destinations.  
James C. McKenna is CEO of the Pacific Maritime Association.