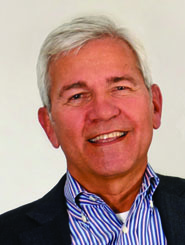 Predicting the future of the maritime industry is a bit like throwing darts. This year, I predict that trade at the top line is again in the hands of the economic fates. The bottom line, however, might be tied to efficiency gains based on technology. 
The industry over the last six years has fallen victim to a miserable, uncertain global economy, punctuated by debt crisis in the U.S., bailouts and austerity measures alike in the eurozone, volatility in commodity markets and weaker-than-expected growth in the developing and emerging economies that are the booster to the U.S. economic engine. 2014 looks to be a bit better. 
If trade volume improvements are the key to increased profit opportunities, then two coming changes in technology are the key to increased profits: The first is the advent of super-big ships, of which the 1,312 foot-long Triple E container ship (at $185 million each) is the signature entrant — 30 percent more fuel efficient, higher stacked containers, reduced travel speeds, and energy-saving advanced waste heat recovery system. Bigger cousins are on the way.
Bigger ships mean fewer port calls and revenue — and more trucks in bigger swings. The second technology — Predictive Analytics, a transplant from the larger U.S. economy — aims to make the resulting landside operation more efficient, optimizing the flow of goods by using the data these systems generate to smooth demand, reduce waste movements and eliminate excess cost. 
Despite the prevalence of terminal operating systems, much of the work of matching containers to their delivery remains largely manual. Predictive analytics can identify when a container will be called for and by which BCO. Fed to the terminal operating system, that turns into more efficient yard and resource planning, expedited delivery processes inside the terminal gates and lower turn times. Benefits flow to everyone in the community — terminal operators, trucking companies, BCOs, MPOs, highway administrations, and port planners alike. It's potentially a brave new world. 
Rob Quartel is Chairman and CEO of NTELX.