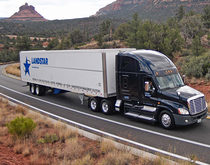 Landstar's new logistics center in Laredo will handle more than truckload freight as the company expands its cross-border business.
A sudden double-digit hike in fuel prices is hammering Mexican trucking companies and shippers — but it's not their only problem.

The value of goods trucked across the U.S.-Mexican border is outpacing the number of trucks making the crossing, rising twice as fast, U.S. transportation and trade data show.

The number of tractor-trailers crossing U.S. borders rose 2.4 percent in the first quarter, following a 4 percent increase last year, according to Department of Transportation data. Border crossings between the U.S. and Mexico outpaced U.S.-Canadian truck traffic.