Europe Sustainability
Europe Sustainability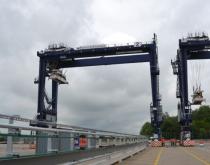 The Port of Felixstowe has converted four diesel rubber-tire gantry cranes to electric to improve its operational and environmental efficiency.
DFDS today said it is shuttering a route between the U.K. and Denmark in response to tougher environmental regulations coming into force in January that will sharply raise the cost of ships' fuel.
The European Union and Indonesia today signed a voluntary partnership agreement on forest law enforcement, governance and trade in timber products to the EU to fight illegal logging.