Mexico Infrastructure News


Press Releases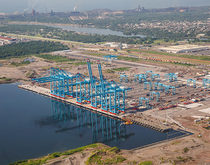 Mexico's top two container ports have ambitions of being alternatives for US-bound imports.

Mexican port authorities aren't letting up on their expansion plans even though US President-elect Donald Trump's plan to overhaul or leave NAFTA threatens the demand for containerized imports through their docks.

The Mexican government is pumping $5 billion — more than 77 billion pesos — into its network of 117 ports, as the country's rising middle class demands more imports and Mexico rises as a regional manufacturing powerhouse.