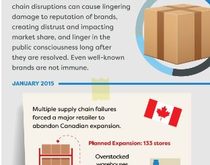 The complexity inherent in global supply chains means small disruptions can have big knock-on consequences.

A GT Nexus, YouGov consumer survey finds many shoppers complain of stock-outs even as retailers see inventory levels surge, a sign of increasing supply-chain complexity and low "visibility."
Infor's announcement that it would acquire GT Nexus for $675 million is the latest sign of how consolidation in the logistics cloud-based software industry is paralleling similar activity in the global third-party logistics market.