Menlo Worldwide Logistics
Menlo Worldwide Logistics maintains a headquarters in San Francisco, USA. The company sits at No. 38 on JOC's Top 40 Global 3PLs because of its estimated logistics related revenue of $1.5 billion in 2013.
Menlo offers air, land, and sea freight shipment in addition to supply chain management and solutions. Menlo also offers warehouse management, and primarily serves the chemical, retail, heavy industry, tech, and automotive industries in addition to governments.The company is a subsidiary of Con-way Multimodal.
Menlo operates 130 facilities in 20 countries and the company has 4,800 full time employees The majority of Menlo's operations are located in the United States, Europe and China, with three facilities in South America and Australia.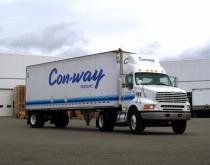 XPO Logistics plans to buy $5.8 billion Con-way, the parent of LTL giant Con-way Freight, Menlo Logistics and Con-way Truckload.

Menlo Logistics will open a new logistics center in Eindhoven, the Netherlands, early next year, as growing e-commerce sales, both domestic and cross-border, are forcing changes in European supply chains and logistics networks.

A steep drop in fuel surcharges coupled with an increase in driver wages helped drag profit and revenue down at Con-way Freight and Con-way Truckload. Menlo Logistics lost revenue, but managed to increase profit.