In 2013, C.H. Robinson Worldwide handled 12.7 million shipments for 45,000 customers on every major continent. The company has 11,000 employees and access to more than 63,000 transporters the world over. The services it provides include freight transportation and logistics, produce sourcing, and outsource solutions.
The Eden Prairie, Minnesota-based company sits at No. 3 on JOC's list of the Top 40 Global 3PLs. C.H. Robinson Worldwide failed to increase its earnings in 2013, but it did raise its count of business customers to 46,000 and repurchased $500 million in shares from stockholders.
Since the year 2000, C.H. Robinson has carried out 13 acquisitions of other logistics firms in Europe, the United States, China, and India. From 2004 to 2012, the company averaged more than one acquisition per year.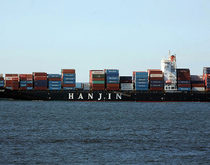 Largest US logistics provider to scrutinize vessel-sharing agreements, urges more "resilient" supply chain strategies.