France's Bolloré ranked as No. 19 on JOC's list of the Top 40 Global 3PLs  for 2013, with logistics-related revenue estimated at $4.1 billion.
The largest portion of Bolloré's logistics services are provided by its subsidiary SDV. SDV offers supply chain management as well as air and sea freight forwarding services. SDV also handles customs brokerage and other regulatory issues for its clients.
SDV has made a number of acquisitions to increase its market share in recent years. These acquisitions include KAMDEN in 2001, Geis in 2004, SWG in 2005, JE Bernard in 2007, SAEL in 2008, and FAST in 2012.
In addition to the traditional logistics services and solutions Bolloré offers through SDV, Bolloré is also highly involved with oil logistics, and owns communications operations. Oil logistics make up approximately 30 percent of Bolloré's revenue, while communications operations contribute 8 percent. Paris-based Bolloré also operates lithium battery production facilities and makes electric cars. It employs 55,500 people in 102 nations worldwide.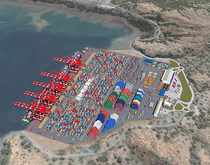 France's Bolloré Group signed a contract with the Southeast Asian state of Timor-Leste to build the country's primary international seaport.