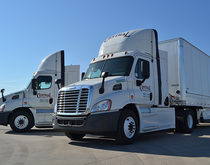 Shipper demands for more integrated services helped spur merger of regional less-than-truckload carriers Central Freight Lines and Wilson Trucking.
The Port of Virginia said Wednesday that a hold is still in place on all export intermodal rail traffic at its Norfolk International Terminals as the port continues to cope with significant rail volume at the facility.
Norfolk Southern Railway company president Jim Squires will succeed Wick Moorman as CEO of the fourth largest railway in the U.S. in three months.
The Port of Virginia closed its Hampton Roads terminals Thursday after a winter storm dumped as many as nine inches of snow in some corners of the southeastern corner of the state.