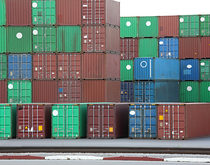 A shortage of ocean containers may spell transloading opportunity for US trucking companies.

The Port of Houston's loaded container volumes jumped 46 percent in April, boosted by cargo diversions from the U.S. West Coast that appear to have had more staying power than some originally anticipated.
BMW Group broke ground Tuesday on a vehicle distribution center at the Port of Galveston that the automaker will open next year to import and process approximately 32,000 vehicles a year.