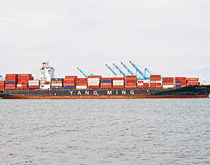 The Taiwanese carrier announced the recapitalization plan in late 2016.
China Merchants Holdings (International)'s first half net profit jumped 29 percent year-over-year to HK$2.8 billion ($US 361 million) after throughput gains at Chinese terminals exceeded China's overall container growth rate and traffic through overseas facilities rose at a double-digit clip.

U.S. scrap metal exports took a tumble in the first half of 2015 and are expected to fall even more by year's end, as the strong U.S. dollar continues to weigh on all American exports.