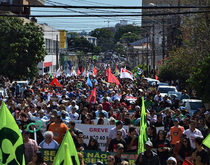 The strike hit Santos with "paralysis and dislocations."

The port authority for Santos in Brazil, Codesp, has been given permission to increase rates by a whopping 31.7 percent, and shippers should prepare for the increased costs.

Alianca Navegacao e Logistica launched a 4,800-TEU, the Bartolomeu Dias, in the Brazilian and South American coastal service and plans to launch a second ship this summer.
A fast-growing terminal operator at the port Rio Grande wants to expand its quay so it can handle three vessels each with capacities of 10,000 twenty-foot equivalent units instead of just two that size.