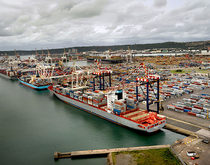 South Africa plans to invest billions in its ports to meet rising demand.
South Africa's port landlord Transnet will help educate ports in Kenya, Namibia, Mozambique and Ghana under a new agreement meant to bring their ports up to international standards.

Multiple container lines have planned general rate increases in numerous trade lanes in October and November, although any gains achieved could be temporary as overcapacity and sluggish global demand continue.