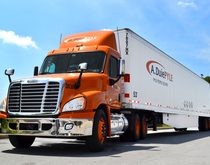 Northeast regional LTL carrier A. Duie Pyle is blending warehousing, distribution and dedicated trucking to attract shippers.
James T. McDermott Jr., executive director of the Philadelphia Regional Port Authority since 1994, said he will retire effective next April 15.

Dredging of the 102.5-mile river channel to 45 feet is just one of many projects under way as Philadelphia and other Delaware River ports build new terminals that can handle various cargoes or rev up long-postponed plans for new terminals.