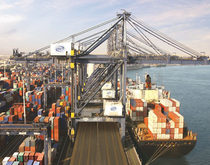 The long-awaited first phase of the Pakistan Deep Water Container Port has begun trial operations.

Container shipping lines are enjoying strong westbound traffic growth to South Asia and the Middle East, giving carriers a ray of hope at a time when the shared trunk services from Asia to Europe are struggling, Drewry reported.
Container carrier APL said it will replace its current Singapore West Asia Express (SWX) service in the intra-Asia trade with a new weekly service, branded the Asia Sub-continent (AS1), starting at the end of this month.