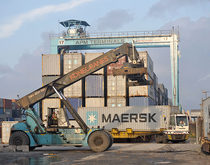 Nigeria's ports boss has committed to making 2017 a turning point for the competitiveness of the country's ports sector.

Illegal payments now account for more than half the cost of import and export processes through Nigeria's ports.

Nigeria's navy has secured the release of the Safmarine Kuramo from pirates that hijacked the vessel Friday as it made its way from Pointe Noire, Congo to Onne, Nigeria.

Importers using the Port of Lagos have seen their customs clearance times triple after equipment failures at the country's largest container terminals, according to a local report.