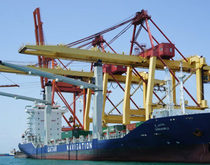 Carriers are finding ways to get around the boycott of Qatar that was imposed by its Arab neighbors.
DP World posted a 4.2 percent increase in container traffic in the first half of the year, driven largely by strong growth at its terminals in Europe and the United Arab Emirates.
As the container trade from Asia to the Middle East grows, Saudi Arabia is expanding the container-handling capacity of its ports, opening a new terminal at Dammam this spring.