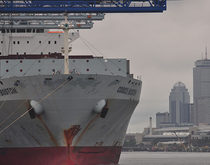 The opening of the elevated Bayonne Bridge in June is likely to bring change.
The storm is expected to dump between one and two feet of snow on the Middle Atlantic and Northeast United States.

Finding locations to drop empty Hanjin containers is a stumbling block for drayage operators and could be one for anyone looking to recover the assets.

The International Brotherhood of Teamsters union filed unfair labor practices charges against a Massachusetts-based trucking company that shut down Dec. 21, laying off 75 employees, including 40 truck drivers.