Luxembourg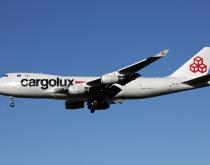 Freighter operator Cargolux has launched a new twice-weekly air service between Chicago and Zhengzhou, China.

Cargolux management and the Luxembourg labor unions continue to be locked in a stalemate, unable to reach a collective work agreement (CWA) despite the carrier's belief that it is key to ensuring the airline's survival.

Samskip Van Dieren Multimodal has launched rail shuttle services between Duisburg, Germany, and Bettembourg, Luxembourg, creating a new link between Scandinavia and France and Spain and expanding its intermodal service.
Robert Song, Cargolux's senior vice president and head of Asia Pacific, has been ousted just weeks after brokering a deal that saw Henan Civil Aviation & Investment Co (HNCA) acquiring 35 percent of the Luxembourg freighter operator.