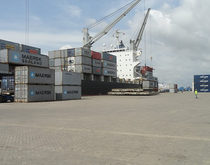 Liberia's Port of Monrovia implemented a new port navigation system.

Expecting a 27 percent jump in container volume for this year, APM Terminals is spending $34.5 million over the next two years to double capacity at its facility at the Port of Monrovia, the only Liberian container gateway.
With piracy in West Africa on the rise, a newly released report highlights how pirate attacks in the Gulf of Guinea are far more violent than in Somalia and less-focused on ransom, requiring the industry to take a different approach to curb attacks.