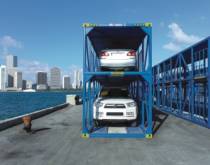 Seaboard Marine has begun using new bilevel automotive containers to handle shipments of automobiles to the Dominican Republic and Jamaica.
Zim Integrated Shipping Services has announced that Zim Container Service Atlantic will add a second call in New York on its eastbound route, starting this month.
German carrier Hapag-Lloyd has announced a new service between Guaranao and El Guamache ports in Venezuela.