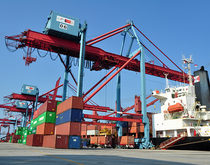 The move is seen as another step in an ongoing campaign to reform the country's port and shipping network.

Indonesia's plans to invest in infrastructure will pay off as the Southeast Asian country attracts cost-driven manufacturers moving their production out of China, according to Jakob Sorensen, president director of Maersk Line Indonesia.

APL Logistics is not standing still while its acquisition by Kintetsu World Express (KWE) is finalized and today announced plans to expand its presence in Indonesia, the second major investment since being sold.
The first major step towards Indonesia's goal of building a huge maritime network across the island nation will be made later this year when the Indonesia Ports Corporation (IPC) nominates a single contractor to deliver 35 new or improved ports.