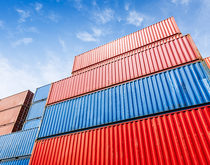 The projects are part of a long-term government program to more than double the country's overall port capacity.
Minor ports in India are aggressively eating into the market share of their government-owned big rivals, as shippers and ocean carriers frustrated with growing delays at some of the leading public port complexes, including Jawaharlal Nehru Port Trust, look for alternative port options, according to an analysis of port statistics obtained by JOC.com.

Kattupalli International Container Terminal, an emerging alternative gateway on India's southeastern coast, last week celebrated the first ship call of the SCI Middle East India Liner Express, or SMILE, an intra-regional service by state-owned carrier Shipping Corporation of India.