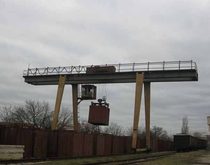 The government of Ukraine plans to significantly reduce tariffs on container shipments via the trans-Caspian international transport route.

The Conti Group, a U.S.-based global developer and builder of capital-intensive assets, has won a tender for the building of a deep-sea port on the Georgia Black Sea Coast at Anaklia, according to recent statements of Giorgi Kvirikashvili, Georgia's prime minister.

The Georgian government expects annual container traffic through the country's seaports to roughly double to 1 million 20-foot-equivalent units by 2020, due to growth in the region and the expansion of it two major seaports, Poti and Batumi.
An APM Terminals executive said the company remains committed to development of a large Black Sea terminal at the Georgia port of Poti, which the terminal operator purchased four years ago.