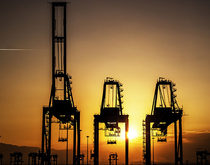 DP World took over the operation and management of Sokhna from a group of private investors in 2008.

Container lines won't reduce the amount of cargo moving through the Suez Canal despite heightened security tensions — most recently inflamed by the reported arrest of 13 people on suspicion of planning to sabotage the waterway integral to trade between Asia and the Europe, and increasingly the U.S.

The "new" enlarged Suez Canal that will allow two-way transits for ships will open on schedule on August 6, according to the waterway authority.