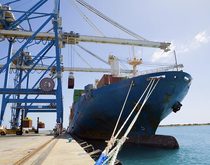 Eurogate has signed a contract to operate the Limassol Container Terminal, expanding the German port group's Mediterranean footprint.

DP World has signed twin agreements with the Cyprus government to operate a multipurpose terminal at Limassol and provide marine services at the Mediterranean island's largest port.

The government of Cyprus believes that the island's position in the Mediterranean makes it a natural choice as an international port and logistics hub.