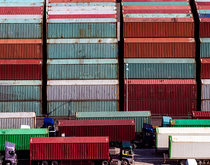 The sold numbers come as other China government data indicates an improved trade and general economic environment.

Hutchison Port Holdings Trust recorded a fall in first-quarter net profit of 49 percent, as a one-off gain in March last year and slowing foreign trade hit the performance of its Pearl River Delta terminals.

Cosco Pacific shrugged off concerns of a slowing China as its first-quarter net profit surged almost 20 percent and container volumes grew by 6.6 percent compared to the first three months of last year.

With West Coast port congestion and container backlogs easing faster than predicted, beneficial cargo owners are reassessing their supply chain strategies for the coming shipping season.