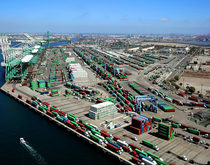 West Coast port volumes were strong in May, with LA enjoying a "record" month, after an April decline.

Containerized cargo volumes at the Port of Los Angeles declined 2 percent in June compared to June 2014, with a 10.7 percent drop in loaded export containers accounting for much of the decline.

APL announced Monday that its PA2 service from North Asia will skip calls to the Port of Oakland through the end of July because of the port's congestion problems.

A Southern California company's emissions treatment system for ocean-going vessels has been approved by the California Air Resources Board, giving operators of container vessels a second option for complying with the state's strict emissions requirements for vessels at berth.