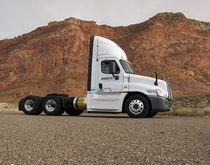 Swift Transportation plans to cut another 200 tractors from its massive fleet to counter softer demand and truck pricing.

Capacity is beginning to exit the trucking market, a trend that will accelerate by the second half of the year, the president of Knight Transportation says.

Loaded truck miles were up 3 percent in February at Swift Transportation, the latest trucking company to report stronger U.S. freight demand. The carrier said customer inventories are dropping, and the U.S. Census bureau also reports some inventory reduction.

The JOC Truckload Capacity Index contracted for the first time in eight quarters, reflecting efforts to better match capacity and demand by large carriers, many of which expect capacity to tighten in the second half of 2016.