The Journal of Commerce delivers high-quality intelligence and expertise to help you make better business decisions - in print, online and face-to-face at our leading industry events. JOC membership includes access to in-depth analysis and commentary written by the award-winning JOC editorial team and industry experts. We deliver this business critical information on a daily basis via the JOC.com website and mobile application. For more information on member benefits, take a look at the chart below.
JOC Membership is the only way to access the valuable content written by the JOC editorial team. Free Trials are available.
New!
Extra value for members!  JOC members benefit from additional insight and analysis, expanded international coverage, hundreds of new data series, special topics and interactive charts. This valuable new content is ONLY available to JOC members.  
Sign up for a FREE TRIAL Today!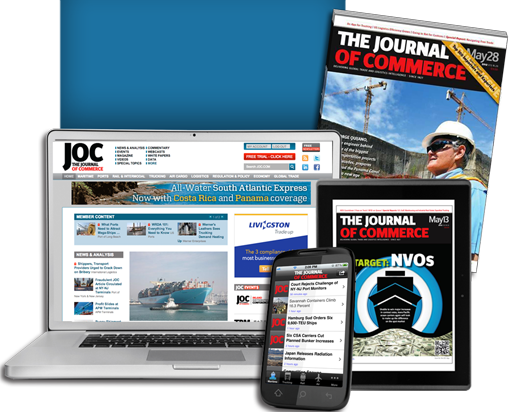 Newsletters

JOC MEMBER

PREMIUM
MEMBER

Newsletters Only - with limited site access
 
 
 
Global news summaries with regional select

NEW!

limited
✓
✓
Data Stories & Analysis with category filter

NEW!

limited
✓
✓
Industry releated press releases
✓
✓
✓
JOC Daily Newswire 
✓
✓
✓
JOC Asia Enewsletter 
✓
✓
✓
JOC US Transport Enewsletter  
✓
✓
✓
Slideshows - logistics in action, with social share feature
✓

✓
✓
JOC Membership - FULL site access plus all benefits
 
 
 
JOC Magazine - biweekly print edition
 
✓
✓
JOC Magazine - biweekly digital edition & archives
 
✓
✓
Expert commentary from JOC and industry analysts
 
✓
✓
Daily updates of 100s of data reports and charts

NEW!

 
✓
✓
Interactive graphics and charts

NEW!

 
✓
✓
Special Topics - one click access to all research and analysis on key industry topics & legislation updates

NEW!

 
✓
✓
Access to Member-only Webcasts, Podcasts & Videos
 
✓
✓
The Annual Review and Outlook
 
✓
✓
Directory of Transportation - Reference Guide
 
✓
✓
Cool Cargos - Special Reports on Reefer News
 
✓
✓
Container Shipping Quarterly - Rankings & Volume
 
✓
✓
The JOC Guide to Trucking
 
✓
✓
The Annual JOC Global Logistics Focus
 
✓
✓
On-Site Coverage From JOC and Other Industry Events
 
✓
✓
Member-only discounts to JOC Events
 
✓
✓
Premium Membership - Full site access plus all benefits 
 
 
 
JOC Insights - a monthly planning and outlook report on key economic indicators
 
 
✓

ANNUAL MEMBERSHIP FEE: 

free    

$395

$995

SAVE MONEY!   

SPECIAL OFFER FOR NEW MEMBERS:   

 

$345

$795

 
Register
Join JOC
Subscribe
Why JOIN JOC? 
When you become a JOC member, you get direct acess to the JOC community of industry experts and the valuable business intellegience provided by the JOC editorial team. In fact, it's the ONLY way to get this information. So, if you're not a member, you're missing out!
Request your FREE TRIAL today!
• Stay informed with global industry news analysis and updates
• Make better business decisions with data and intelligence
• Connect with peers and industry colleagues
• Benefit from member discounts to JOC events
• Money Back Guarantee with a 30 Day Free Trial!