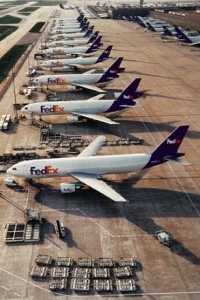 FedEx Corp. is an American global courier delivery services company headquartered in Memphis that provides customers and businesses worldwide with a broad portfolio of transportation, e-commerce and business services. It provides strategic direction and consolidated financial reporting for the operating companies that compete collectively under the FedEx name worldwide: FedEx Express, FedEx Ground, FedEx Freight, FedEx Office, FedEx Custom Critical, FedEx Trade Networks, FedEx Supply Chain Solutions and FedEx Services.
Federal Express, now FedEx Express, first began operations in 1973, with the delivery of 186 packages to 25 U.S cities, and today it has the world's largest all-cargo air fleet.
FedEx reported its net profit in the third quarter of fiscal year 2014, ending Feb. 28, 2014, was $378 million, increasing 5 percent year-over-year from $361 million.
FedEx founder Frederick W. Smith, the company's president, chairman and CEO, delivered the keynote at the JOC's 14th annual TPM conference in Long Beach, Calif., in March 2014: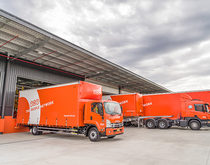 FedEx European subsidiary TNT Express is the second major transportation operator affected by a global cyberattack.