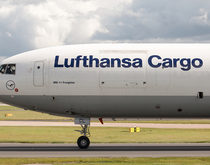 Lufthansa Cargo and Japan's All Nippon Airways will extend their joint venture next month.

Lufthansa Cargo, Europe's largest all-cargo airline, said it will lay off hundreds of its 4,600-strong worldwide workforce.

Europe's leading air cargo carriers are continuing to post lower traffic figures month after month while their smaller rivals are still boosting their market shares.

Lufthansa and United Airlines plan to expand their current passenger partnership to cargo operations between Europe and the U.S.